Bellbird is Engoo's free video calling service. In this article, you will learn about some of Bellbird's main features.
Since 2019, Bellbird has been the video calling platform we use for all our lessons, and was successfully used for over 10,000,000 English lessons in the first year alone. There's no installations, no adding contacts and no confusion - just click a link and go straight to the conversation.
Video Calling Interface
Here is an overview of what you will see when you first create a call, before anyone else has joined it. The different buttons are labeled with numbers below.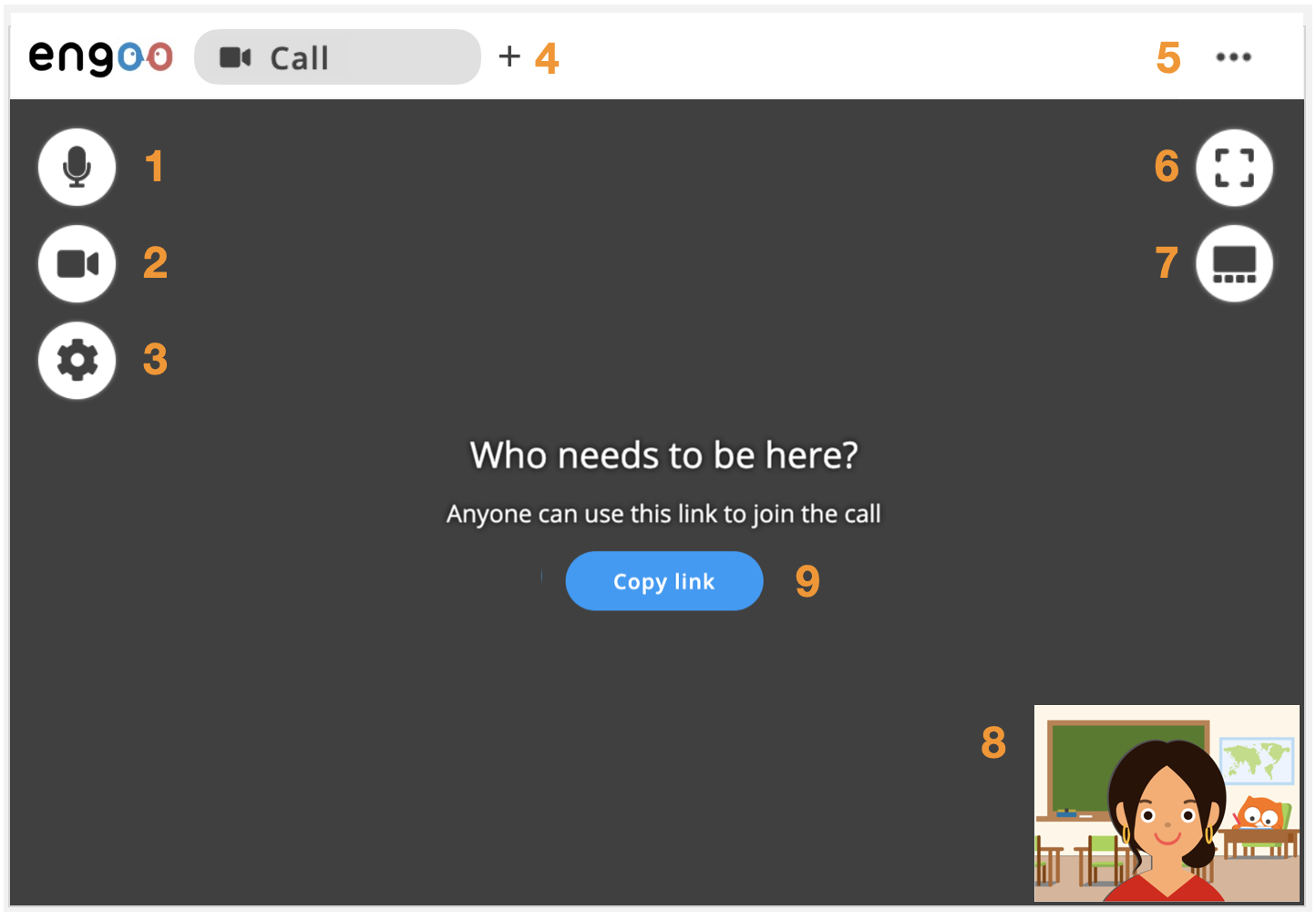 Camera: click to mute/unmute your camera.
Screen sharing: click to start/stop screen sharing.
Microphone: click to mute/unmute your microphone.
Call settings to select your Camera and Microphone source.
*Switch between full screen video and side screen video. The video position is sync'd for all participants. (This button will only appear once you have interacted with our materials)
End call button.
Call link. Click here to copy the link you need to share with people you want to join the call.
Your video feed.
Once you have clicked the "Copy call link" button, and shared the link with the people you want to join, they will appear on video in front of you. However, if their microphone or camera is not turned on, you may see the following: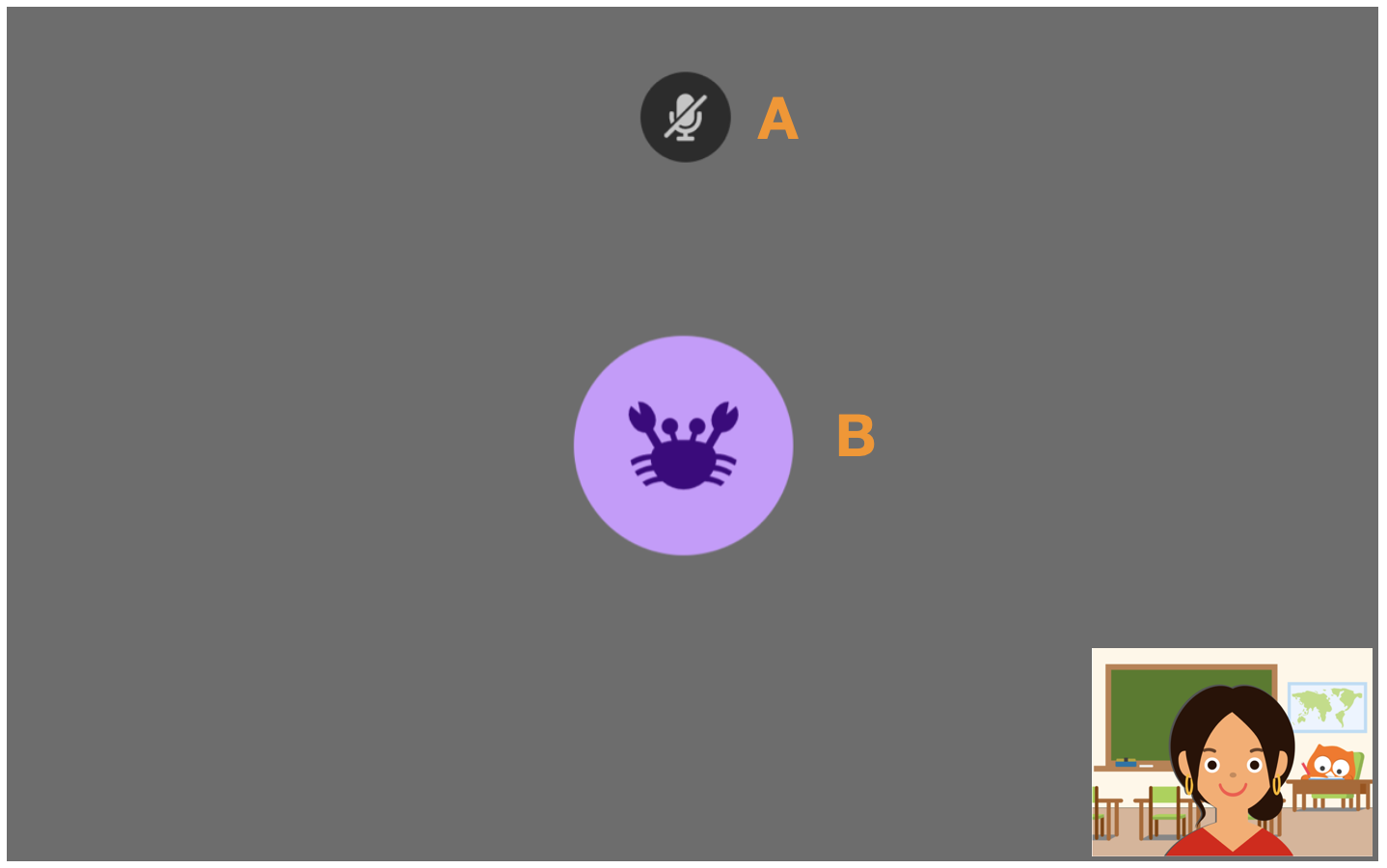 9. Mic muted icon. If the person you're chatting with has their mic muted, you will see this icon. If their mic is on, the icon will not display and you will hear the other participant.
10. Video muted. If the person you are chatting with has their video turned off, you will see this icon. If their video is on, the icon will not display and you will see the video feed.
As more participants join the call, the videos will adjust position accordingly. We recommend using it for a maximum of 6 people. Audio-only calls can handle many more.

If you've ended the call and want to join again, click the "Reconnect" button or access the shared link again.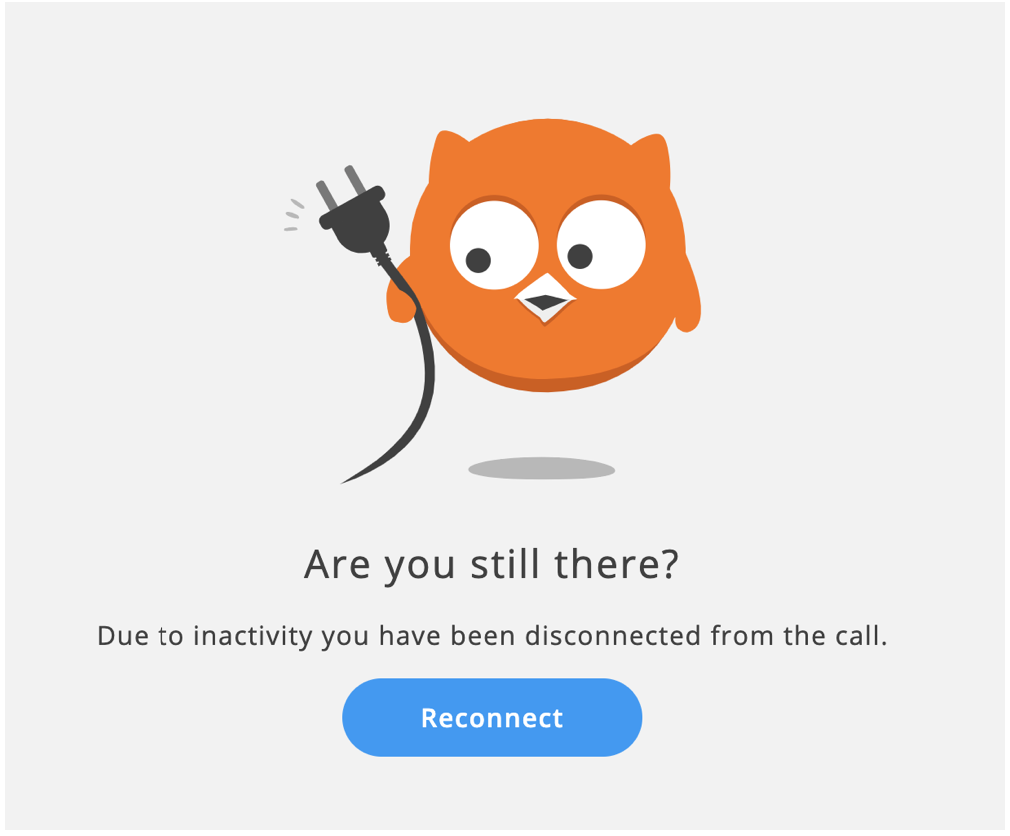 Chat and Notes
A chat and notes window can be found to the right of the video window.
Chat
If you have an account and are logged in, your display name will appear. Logged out participants and those without accounts will appear as anonymous animals.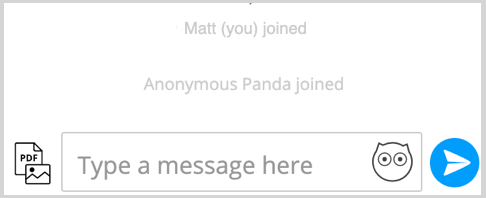 Editing and Deleting Messages
You can hover over your message to see the edit and delete icons. If you edit a message, a pencil icon will remain next to the edited message. If you delete a message, "You deleted this message" will display instead, while other participants will see "This message has been deleted."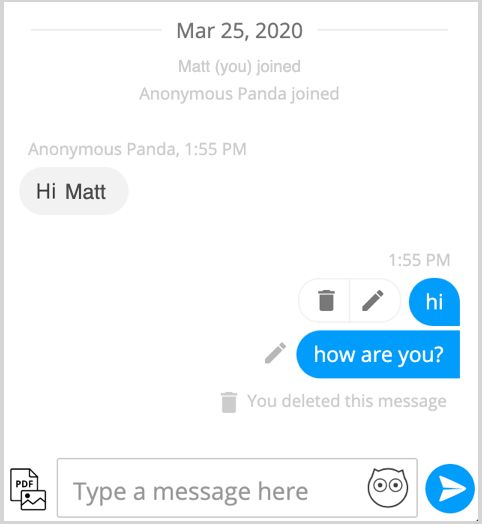 Emojis
There is an emoji button on the right side of the text-chat box. Click it to select an emoji.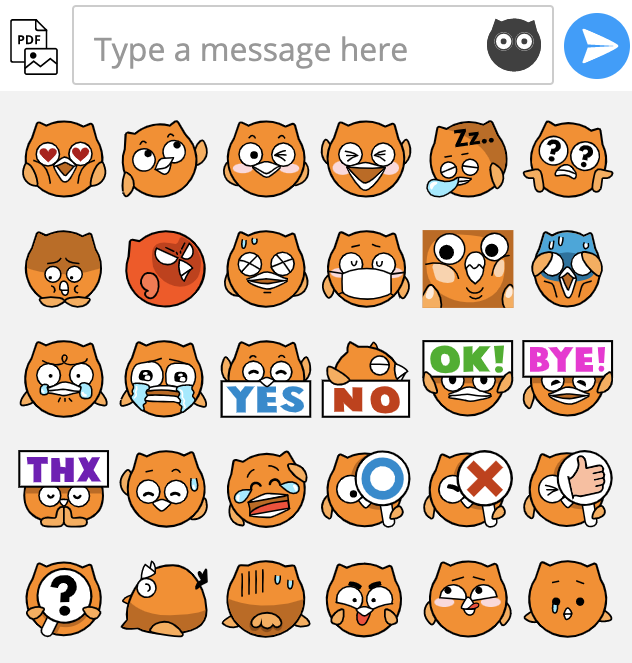 Collaborative Notes
"Notes" is a collaborative writing tool intended to allow all participants in a meeting room to edit a single document.
Use it as a way to write minutes or to create a to-do list for the meeting. Notes can be accessed by clicking the "Notes" tab at the top right of the chat window.
Upload Files
PDF and image files can be uploaded to the meeting room. The maximum file size is 15MB.
To upload files, click on the icon to the left of the text input box, then select a file. Or you can drag and drop a file into the chat area.
If you don't have a PDF, you can easily create your own. Most browsers and software will allow you to create a PDF by accessing the print dialog and saving the file as a PDF.
Please refrain from using copyrighted material.
You can download and save PDFs that have been uploaded to the meeting room chat in the following ways:
In the chat, hover over the file and click on the Download icon.
While the PDF file is open in the main area, click on the download icon below the title of the file.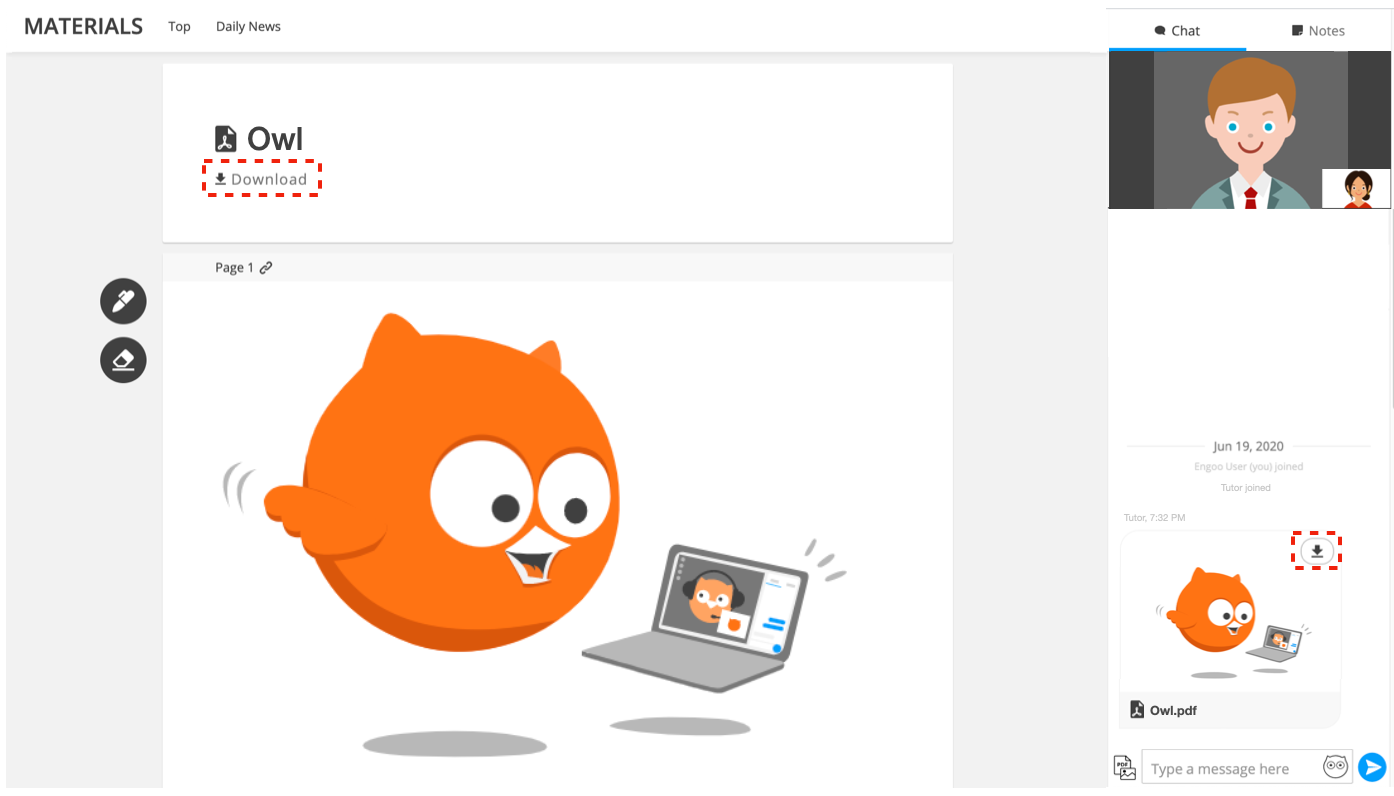 Sharing is Caring
Synchronized Navigation
Opening an uploaded PDF file will open the PDF view for all participants below the video feed. Be sure to exit fullscreen mode to be able to scroll down and view whatever document has been opened.
If the PDF is multiple pages long and you click on a page number, everyone will jump to the same location.
Shared Selection (Highlighting)
If you select text in the meeting room (in either chat, notes or a shared file), other participants will see the highlighted text.
To easily navigate to a highlighted location that is off screen, click on the name flag that will appear when someone highlights something - this will take you to the selected area.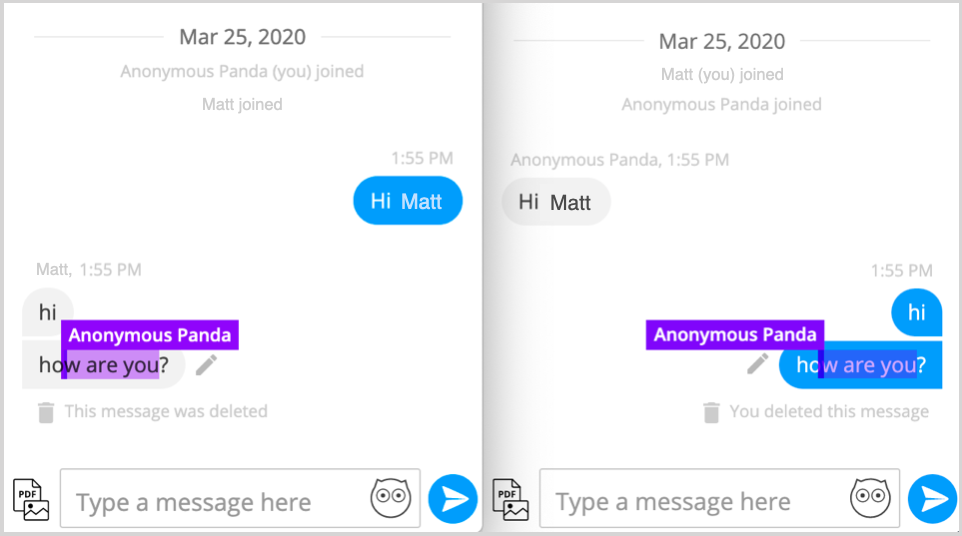 Shareable links
Keep and access the same link to continue the call at a different time. Your notes and messages will still be there.
If you want to have a call with a different group of people, simply create another meeting room.
Materials
This system was originally developed for teaching English online, and we think it might be particularly useful to teachers doing private lessons so we have made our lesson materials available in the system. To access them, just click the "Materials" or "Daily News" buttons at the top left, above the video window.
These include our popular Daily News content as well as all of our regular materials. These materials are copyrighted, but anyone is free to use them for private lessons.
All of the tools mentioned above are available while viewing our materials as well. We think that having features like synchronized navigation, shared highlighting, and collaborative note taking will make teaching much easier.
We are continuously working on ways to further improve the tool because we use it internally as well!
Please keep an eye out for new features and if you come across any issues, check out our troubleshooting guide. If you can't find what you're looking for there, you can contact us at bellbird-support@engoo.com.